Skip to Content
Delve Deeper into Carotid Artery Disease
Stroke is one medical emergency we hope never to encounter. But while we often think of stroke as a single condition, it's actually related to a variety of diseases. One of those is carotid artery disease. This condition affects the artery that transports blood to the head and brain, and untreated cases can lead to stroke. At California Vein & Vascular Centers, we're committed to bringing you the treatment you need to avoid a medical emergency. We have locations in Salinas, Los Altos, Los Gatos, and Morgan Hill, CA, each of which has the staff and equipment to provide treatment. Get the details on carotid artery disease and how you can monitor your risk factors.
What Is Carotid Artery Disease?
Carotid artery disease (CAD) is a condition in which fatty deposits begin to build up in the blood vessels that carry blood to the brain. This creates a blockage and puts patients at higher risk of stroke and other medical emergencies.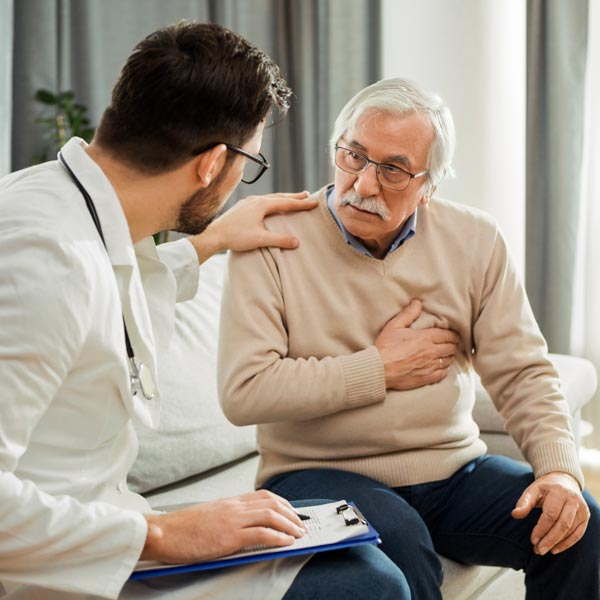 Get Familiar With Carotid Artery Disease Symptoms
CAD itself is not known to produce specific symptoms. In fact, the first sign of a carotid artery blockage is often a stroke or transient ischemic attack (TIA). The best way to look for signs of CAD is to get familiar with the symptoms of a stroke or TIA. If you notice any of the following symptoms in yourself or a loved one, get to an emergency room right away:
Sudden numbness or weakness, especially in the face and limbs on just one side of the body
Vision problems
Difficulty speaking and comprehending speech
Sudden, severe headache
Dizziness or trouble with balance
Confusion
What Causes This Condition?
Carotid artery disease develops as a result of atherosclerosis. This process involves the accumulation of plaque and fatty buildup in the arteries. Over time the arteries become blocked, stiff, and narrow. Once the carotid artery is clogged up, blood and oxygen cannot get to the brain and everyday brain functions become difficult.
Know Your Risk Factors
Because CAD has few symptoms other than stroke, it's crucial to know your risk factors. If you're at higher risk of developing CAD, you can schedule more frequent checkups to catch signs of the condition as early as possible. At California Vein & Vascular Centers, we'll evaluate you for the following risk factors:
High blood pressure
Diabetes
Age
Obesity
Sedentary lifestyle
Tobacco use
High cholesterol
Sleep apnea
Family history of carotid artery disease or other conditions involving atherosclerosis
Talk to Us About Treatment Options
If we find risk factors for CAD, we'll begin determining a course of action. In most cases, carotid artery blockage treatment works to prevent stroke or TIA. Depending on the severity of your condition, we may recommend lifestyle changes and non-invasive options. But more significant blockages could require surgery. Here's an overview of what you can expect from treatment:
Lifestyle Changes: Sometimes, lifestyle changes are all it takes to slow the progression of atherosclerosis and carotid artery disease. We'll sit down with you, talk about your current lifestyle, and discuss necessary changes. Our team may recommend losing weight, avoiding tobacco products, introducing healthier foods, and exercising more often.
Medication: We may prescribe medications to lower cholesterol and stabilize blood pressure. Our patients also benefit from taking aspirin and other blood thinners daily.
Surgery: The most common treatment for severe CAD is carotid endarterectomy. This procedure involves opening the carotid artery and directly removing the plaque blocking the blood vessel. If surgery is too risky and the blockage is too difficult to reach, we may perform a similar procedure with a catheter. We'll make sure you understand all of your surgical options before scheduling the procedure.
Serving in the following Locations
• Los Gatos: San Jose, Campbell, Saratoga, Santa Clara Valley, Silicon Valley, the South Bay, the Bay Area, and Santa Clara County.
• Los Altos: Mountain View, Palo Alto, Sunnyvale, San Jose, Silicon Valley, the Peninsula, and the Bay Area.
• Morgan Hill: Gilroy, South San Jose, Silicon Valley, Watsonville, Santa Clara County.
• Salinas: Monterey County, Hollister, Prunedale, Monterey, Pacific Grove, Watsonville, Seaside, Carmel-By-The-Sea, Carmel
Schedule a Consultation Today
Whether you're concerned about carotid artery disease or another condition affecting the arteries and veins, California Vein & Vascular Centers is here for you. With locations throughout the Bay Area, our doctor is accessible to you. Dr. Ahluwalia is board-certified and has years of experience providing compassionate care to patients. Contact us today to set up a consultation with our vein and vascular specialists.
Contact Us Today to Schedule a Consultation