Skip to Content
Peripheral Artery Disease
California Vein & Vascular Centers
What Is Peripheral Arterial Disease?
California Vein & Vascular Centers diagnoses and treats Peripheral Arterial Disease (PAD) or Peripheral Vascular Disease (PVD) in Los Altos, CA. Our vein specialists are in the top ten in the nation for our superior treatment of peripheral arterial disease. The disease occurs when plaque builds up in the arteries that carry blood to the head, organs, and limbs. Blood flow is restricted as the plaque hardens and narrows the arteries, leading to life-threatening conditions. The progressive disease is often associated with varicose veins, deep vein thrombosis, and chronic venous insufficiency. PAD is typically associated with clogged arteries in the legs. The disease symptoms are not always obvious, so it's essential to visit a vein specialist if you have any blood flow problems. Contact us today to learn more.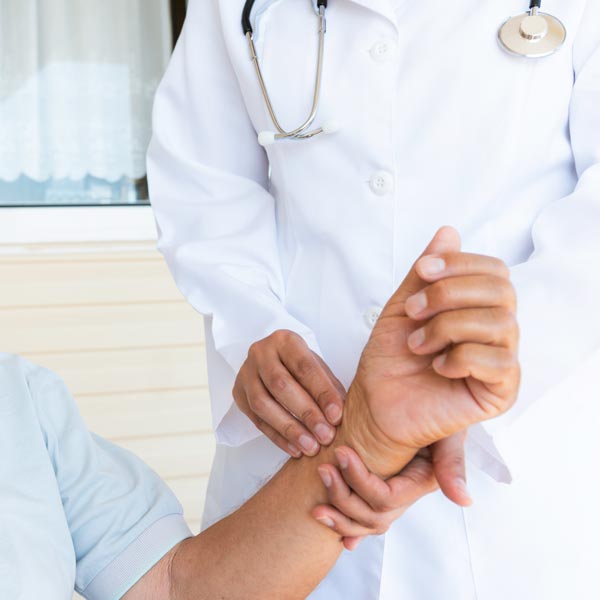 Peripheral Arterial Disease Risk Factors 
The most common cause of Peripheral Artery Disease is atherosclerosis. The fatty deposits that build up in your artery walls and reduce blood flow are most often caused by:
Smoking
Diabetes
Older Age
Family History of Heart Disease
High Cholesterol
Obesity
Peripheral Arterial Disease Symptoms
Many people with Peripheral Artery Disease experience mild symptoms. The most common symptoms of Peripheral Artery Disease include:
Leg pain when walking
Cramping in arms or legs when active
Leg numbness or weakness
Sores on lower extremities
Changes in colors of legs
Slower growth of toenails
Weak pulse in legs or feet
Gangrene in severe cases
What Causes Leg Cramps at Night?
Leg cramps caused by PAD occur when your leg muscles aren't getting enough oxygen. You may also notice pain in your leg when walking or exercising that goes away with rest. The effects of Peripheral Artery Disease sometimes extend into other parts of the body, causing cramps and pain.
Peripheral Vascular Disease Prevention
The best way to prevent PAD is to maintain and healthy lifestyle. Maintaining a healthy weight, quitting smoking, and exercising regularly are crucial. We will work with you to help prevent Peripheral Vascular Disease and find healthy activities that meet your needs.
Peripheral Artery Treatment
Peripheral Artery Disease treatments begin with reducing the risk of complications and stopping the progression of the disease through lifestyle changes and medication. If PAD is severe enough, Dr. Ahluwalia performs a laser atherectomy to clear out the blockages in the arteries. We use a laser to ablate the blockages, breaking them apart to clean the artery. Other Peripheral Artery Disease treatments include balloon angioplasty, stent procedure, and bypass surgery.
Angiogram
Dr. Ahluwalia uses a vascular angiogram to help diagnose peripheral artery disease. The angiogram is a test that uses a dye and X-ray. The X-ray will pick up areas in the arteries that are narrowed or blocked by plaque buildup, thus limiting blood supply. If the test shows that there is narrowing of the arteries, angioplasty and/or stenting are treatment options.
Walking Protocol
Patients with Peripheral Artery Disease should be considered for exercise therapy. Prior to prescribing an exercise therapy program, patients should complete a cardiac stress test on a treadmill to identify coronary ischemia.
Dr. Ahluwalia will tailor an individual walking program for his patients with Peripheral Artery Disease. In the beginning, some patients can only achieve 10 minutes of walking exercise in a single session. Duration of exercise should be increased 5 minutes per week till the patient can walk a minimum of 30 minutes per session. Patients are encouraged to increase walking/exercise sessions up to 45 to 50 minutes per session.
Laser Atherectomy
Although Peripheral Arterial Disease (PAD) is serious, it can be treated. Treatment may slow or stop disease progress and reduce the risk of complications. Treatments include lifestyle changes, medicine, and surgery or procedures. Dr. Ahluwalia performs laser atherectomy to clear out the blockages in the arteries. To clear out the arteries Dr. Ahluwalia utilizes a laser that ablates through the blockages safely and painlessly. He makes a small incision in the artery where he works through and inserts the laser (which is a cool-tipped laser similar to Lasik eye surgery) to make contact with the blockage. Once the contact is made the laser breaks apart the molecular bonds of the blockage and cleans out the artery.
Angioplasty and Stenting
If you are dealing with Peripheral Artery Disease, it is time to look into treatment options that will provide you with the relief and safety your body deserves. Peripheral Artery Disease is a common disease that affects a large portion of the older adult population. Angioplasty and stenting procedures are excellent methods of treating Peripheral Artery Disease. Angioplasty and stents are used to open up the blocked arteries. The angioplasty procedure involves our doctor using a balloon attached to a catheter to open up the artery. If the artery does not stay open after the angioplasty procedure, our doctor may place a stent in the area to hold the artery open. Blocked arteries are not something to ignore. That is why our practice offers a variety of treatment options, including angioplasty and stenting, to help you get the care you need.
Serving in the following Locations
• Los Gatos: San Jose, Campbell, Saratoga, Santa Clara Valley, Silicon Valley, the South Bay, the Bay Area, and Santa Clara County.
• Los Altos: Mountain View, Palo Alto, Sunnyvale, San Jose, Silicon Valley, the Peninsula, and the Bay Area.
• Morgan Hill: Gilroy, South San Jose, Silicon Valley, Watsonville, Santa Clara County.
• Salinas: Monterey County, Hollister, Prunedale, Monterey, Pacific Grove, Watsonville, Seaside, Carmel-By-The-Sea, Carmel
Why Choose California Vein & Vascular Centers?
California Vein and Vascular Center is an award-winning vascular center for our arterial and vein treatments. Our experienced team specializes in diagnosing and treating all types of vascular issues with the most innovative procedures. Our board-certified technicians are recognized as leaders in our field, training physicians at home and abroad, and our doctors strive for the best patient results. We customize our treatments to meet your needs.
Contact California Vein & Vascular Centers
Contact the vascular specialists at the California Vein & Vascular Centers to learn more about Peripheral Artery Disease. If you have a strange pain in your legs or exhibit any symptoms of PAD, we will diagnose and treat your issues. We serve the California Bay Area with effective vein treatments in Los Altos, Los Gatos, Morgan Hill, and Salinas. Contact us today to schedule a consultation!
Contact Us Today to Schedule a Consultation