Skip to Content
Treating Venous Ulcers
What Are Venous Ulcers?
Venous ulcers are open sores that typically form on the lower extremities. Venous ulcers can occur when the leg veins cannot pump blood back into the heart, leaving it to build pressure in the legs. The increased pressure and fluid cause a venous leg ulcer.  California Vein & Vascular Centers offers venous ulcer treatment in Los Gatos, Los Altos, Morgan Hill, Salinas, CA, and the surrounding areas. Our award-winning medical team diagnoses and treats all types of arterial, venous, and vascular issues. We are number one in California for more vein procedures performed than any other vein doctor. Contact us to schedule an appointment.
Causes of Venous Ulcers
Venous ulcers typically occur at the most severe stage of venous reflux disease. The cause of venous ulcers is high pressure in the veins of the lower leg. The veins have valves that keep blood flowing up toward your heart. If the valves become weak or blocked, the blood flows backward and pools in the legs, causing venous insufficiency. High pressure in the lower leg veins builds up, causing cell death and tissue damage. Painful wounds form from damaged tissue.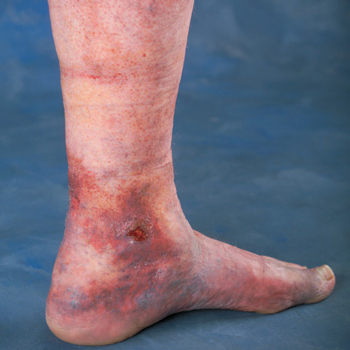 Symptoms of Venous Ulcers
An early-stage venous leg ulcer is often made of itchy and thin skin called stasis dermatitis. The most common symptoms of venous ulcers include:
Red, brown, or purple skin
Hardened skin
Shallow sores with a red base
Leg swelling
Shiny or tight skin
Who Is at Risk for Venous Ulcers?
Venous ulcers can happen to almost any person that has vein issues. The most common risk factors for venous ulcers include:
History of blood clots
Blocked lymph vessels
Varicose veins
Older age
Family history
Obesity
Pregnancy
Treatment for Venous Ulcers
Venous ulcers need proper treatment and a high level of care to help the sores heal and prevent infection. We'll work with you to ensure you have the best possible treatment for venous ulcers, including:
Treating the vein problems causing ulcers
Removing tissue around the wound
Cleaning the wound regularly
Applying proper wound dressings
Wearing compression stockings
Taking oral antibiotic medicines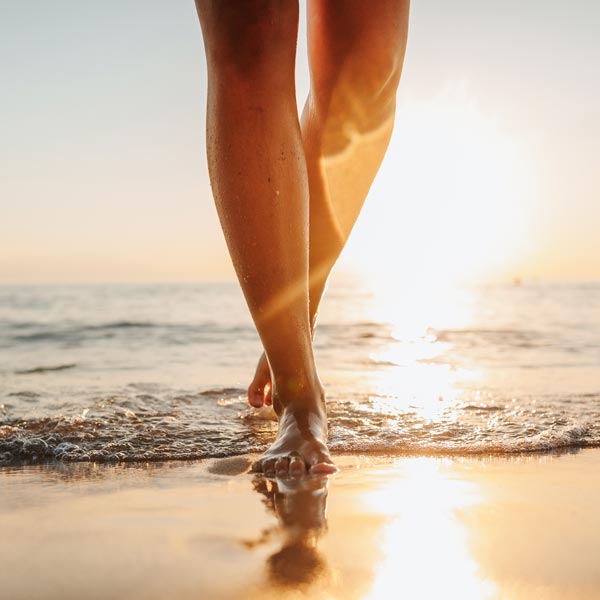 Why Choose California Vein & Vascular Centers?
California Vein and Vascular Centers have a reputation for treating patients with optimal customer service and high-quality treatments. Dr. Hardeep S. Ahluwalia and our outstanding medical team are number one in California for the number of procedures performed than any other vein doctor, in the top five in the nation for the number of vein procedures performed, and the top ten in the country for our treatment of peripheral arterial disease. All procedures are done at our Bay Area practices for fast recovery. You always meet with a board-certified vascular surgeon that will help determine a customized treatment plan for your needs.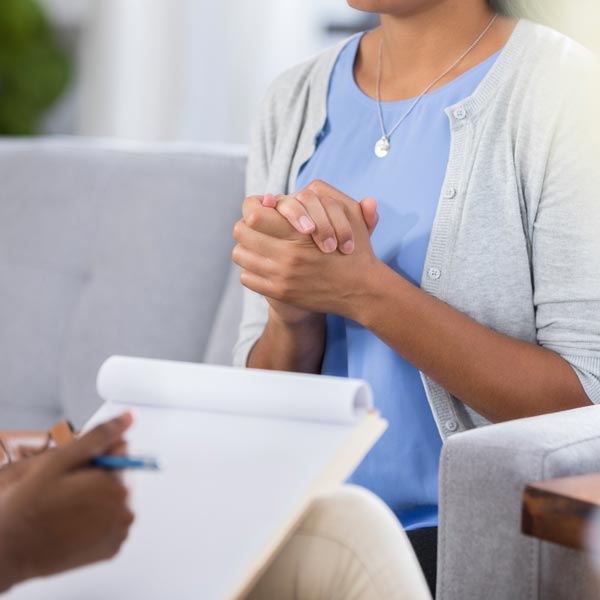 Treating the Venous Ulcer (Treating Perforating Veins)
In the United States, it is estimated that up to 1.8 million people are afflicted with venous ulcers which are the most common chronic wounds treated in wound care centers.1,2 More than half of the venous ulcers treated are recurring ulcerations or wounds that might have healed before, but later return. Conventional treatments for venous ulcer patients include the use of antibiotics, salves, and compression therapy. But these treatments have often resulted in high failure and recurrence rates. Attempts to heal the skin without correcting the underlying venous insufficiency can lead to a delayed ulcer healing and recurrence.
Treatment for Venous Ucler includes The Venefit Procedure for Uclers.
Serving in the following Locations
• Los Gatos: San Jose, Campbell, Saratoga, Santa Clara Valley, Silicon Valley, the South Bay, the Bay Area, and Santa Clara County.
• Los Altos: Mountain View, Palo Alto, Sunnyvale, San Jose, Silicon Valley, the Peninsula, and the Bay Area.
• Morgan Hill: Gilroy, South San Jose, Silicon Valley, Watsonville, Santa Clara County.
• Salinas: Monterey County, Hollister, Prunedale, Monterey, Pacific Grove, Watsonville, Seaside, Carmel-By-The-Sea, Carmel
Contact California Vein & Vascular Centers
Contact California Vein & Vascular Centers to take care of your venous ulcers. We understand the pain and challenges of vein disorders, and we're here to help you. We have treatment centers in Los Altos, Los Gatos, Morgan Hill, and Salinas. Contact us today to schedule a consultation!
Contact Us Today to Schedule a Consultation