Skip to Content
Feet & Leg Swelling Treatment
What Is Edema?
Edema in the legs and feet is the technical term for swelling limbs. Edema is caused when fluid trapped in the body's tissues causes swelling. California Vein & Vascular Centers diagnoses and treats edema in Salinas, Los Altos, Los Gatos, Morgan Hill, CA, and surrounding area patients. Our vein specialists are proud to be in the top ten in the nation for our vein procedure treatments. We provide precision treatments for peripheral arterial and venous diseases, swelling, veins, and vascular disorders. If swollen feet and ankles interfere with your daily lifestyle, we can help. We'll diagnose the issue and find the best treatment for your needs. Contact us to schedule an appointment.
Symptoms of Edema
Edema causes your body parts to swell, often preventing you from doing daily tasks. Symptoms of edema may indicate an underlying health condition. The most common symptoms of edema include:
Swelling in legs and feet
Puffiness of tissue directly under your skin
Shiny or stretched skin
Lasting dimples in the skin
Increased abdominal size
What Causes Edema?
Edema is common but can be problematic if it does not go away on its own. The most common causes of edema include:
Weakened Vein Valves
If the valves in your veins are weak, they cannot adequately pump blood back into the heart, leading to a buildup of fluid in the feet and legs.
Underlying Medical Issues
Edema may indicate heart failure, kidney disease, lung disease, and thyroid disease.
Gravity
If you stand or sit for long periods of time, gravity pulls water into your arms, legs, and feet.
Poor Nutrition
Eating a diet high in sodium causes fluid to build up in your body.
Pregnancy
Edema is common in pregnancy due to the uterus putting pressure on blood vessels.
How Is Edema Diagnosed?
Our vein specialists will give you a physical examination to help diagnose edema. We can also perform diagnostic testing to check for areas of swelling and find the cause.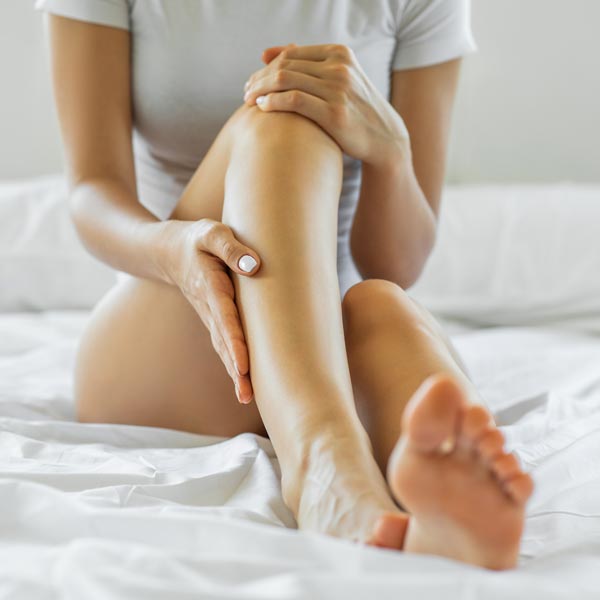 Tips To Help Prevent Swelling of the Feet & Legs
Keep your limbs elevated when sitting or lying down.
Avoid sitting or standing for long periods without movement.
Reduce sodium in your diet.
Be as active as possible with exercise and movement.
Wear compression stockings or socks.
How Is Edema Treated?
We treat edema based on the cause of your swelling. If an underlying health condition causes edema, we recommend lifestyle changes. Dr. Ahdulwalia prescribes treatment for swelling of the feet and legs on a case-by-case basis after the examination.
How Soon After Treatment Will I Feel Better?
The duration of your leg and foot swelling depends on the cause of your diagnosis. Edema can be a temporary or permanent problem. Swelling typically only lasts for a few days. It's important to maintain treatment to ensure the swelling continues to decrease. If your swelling doesn't subside, contact your healthcare provider.
Why Choose California Vein & Vascular Centers?
California Vein and Vascular Centers is led by Dr. Hardeep S. Ahluwalia and an outstanding medical team. We are an award-winning vascular center that prioritizes your health. Whether you have mild swelling or severe vein problems, we're here for you. We treat all types of vascular issues with our state-of-the-art treatments and procedures. We are leaders in our field because we customize treatment for every patient.
Serving in the following Locations
• Los Gatos: San Jose, Campbell, Saratoga, Santa Clara Valley, Silicon Valley, the South Bay, the Bay Area, and Santa Clara County.
• Los Altos: Mountain View, Palo Alto, Sunnyvale, San Jose, Silicon Valley, the Peninsula, and the Bay Area.
• Morgan Hill: Gilroy, South San Jose, Silicon Valley, Watsonville, Santa Clara County.
• Salinas: Monterey County, Hollister, Prunedale, Monterey, Pacific Grove, Watsonville, Seaside, Carmel-By-The-Sea, Carmel
Contact California Vein & Vascular Centers
Contact our vascular specialists if you're experiencing swelling in your legs and feet. We'll help diagnose the root of the problem and help get you back to an active lifestyle. We have treatment centers in Los Altos, Los Gatos, Morgan Hill, and Salinas. Contact us today to schedule a consultation!
Contact Us Today to Schedule a Consultation