Skip to Content
Spider Veins & Varicose Veins Treatment
California Vein & Vascular Centers is number one in the state and the top five in the nation for our vein procedures for patients in Los Altos, CA, and the surrounding areas. Varicose veins and spider veins create cosmetic problems for many patients and sometimes develop into medical issues. Our innovative vein treatments help improve your skin's appearance and repair the health of damaged veins. We try our best to use minimally invasive procedures to repair your venous issues. Our vein treatment specialists provide accurate precision and skill to avoid injuring surrounding veins. We will work with you to find the best vein treatment for your needs.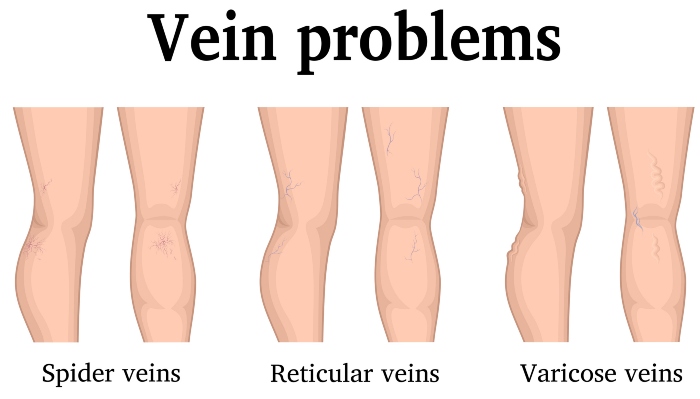 What Causes Varicose Veins and Spider Veins?
Varicose veins appear as raised, purple, and bumpy swollen veins. They are caused by a lack of blood flow that causes the blood to pool in the vein, resulting in bulging veins in the legs or arms. Spider veins are dilated capillary veins that appear blue to red. The small lines or web-like patterns are not harmful but cause cosmetic concerns for many people. We will determine the best treatment for your varicose and spider veins during a consultation with our team.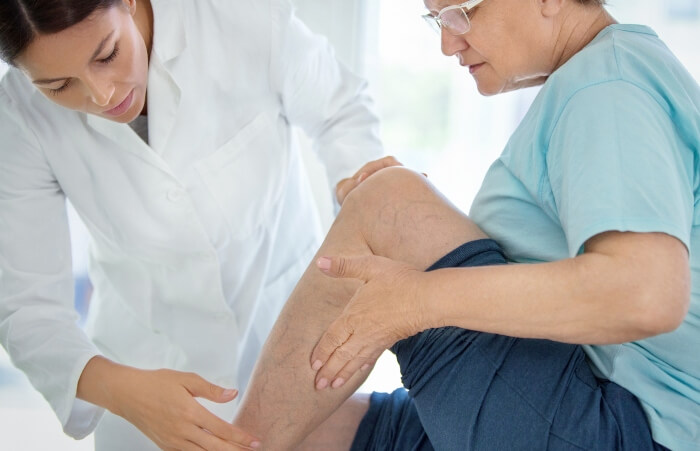 Treating Various Venous Issues
Venous issues develop when blood flow cannot adequately flow through the body. Besides varicose veins and spider veins, the other most common venous diseases include:
Blood Clots – Blood clots can be found in the legs, arms, veins of internal organs, brain, and lungs.
Deep Vein Thrombosis – Deep vein thrombosis (DVT) is a blood clot in a deep vein that may break free, causing a life-threatening pulmonary embolism.
Superficial Venous Thrombosis – When a blood clot develops close to the skin and causes pain, a patient suffers from superficial venous thrombosis or phlebitis.
Ulcers – Ulcers are open sores on the legs caused by venous stasis ulcers or static blood flow.
Vein Disorder Treatments
After a comprehensive evaluation that includes an ultrasound examination of the veins, our vein treatment specialists will determine the optimal treatment for each patient's needs. Our most common vein disorder treatments include:
Venefit Procedure – The Venefit procedure uses ultrasound guidance to position a catheter into the diseased vein and heats the vein wall with radiofrequency (RF) energy. The laser energy shrinks collagen in the wall, allowing the vein to close and re-route the blood to healthy veins.
VenaSeal – VenaSeal treats varicose veins by delivering adhesive through a catheter. We deposit the effective adhesive to specific points in the vein for treatment.
Varithena – Varithena delivers microfoam through a catheter or direct injection. The microfoam fills and expands the vein, causing it to collapse and seal shut.
Sclerotherapy – Sclerotherapy injects a solution directly into the problematic vein. The solution causes the lining of the blood vessel to swell and stick together, helping the blood to clot.
Ambulatory Phlebectomy – Ambulatory phlebectomy is the surgical removal of surface veins completed with tiny incisions.
Veinwave – Thermocoagulation utilizes a thin needle that delivers radio frequency energy to close the damaged veins.
Laser Sclerotherapy – Laser vein therapy directs targeted light beams to irritate the walls of veins, causing them to collapse.
Serving in the following Locations
• Los Gatos: San Jose, Campbell, Saratoga, Santa Clara Valley, Silicon Valley, the South Bay, the Bay Area, and Santa Clara County.
• Los Altos: Mountain View, Palo Alto, Sunnyvale, San Jose, Silicon Valley, the Peninsula, and the Bay Area.
• Morgan Hill: Gilroy, South San Jose, Silicon Valley, Watsonville, Santa Clara County.
• Salinas: Monterey County, Hollister, Prunedale, Monterey, Pacific Grove, Watsonville, Seaside, Carmel-By-The-Sea, Carmel
Contact California Vein & Vascular Centers
California Vein & Vascular Centers are committed to diagnosing and treating your vein issues. Our team promotes healthy veins to ensure optimal blood flow. We have four convenient locations in Los Altos, Los Gatos, Morgan Hill, and Salinas. Contact us today to schedule an appointment with our vein specialists.
Contact Us Today to Schedule a Consultation