Skip to Content
Varicose Vein Treatment in Los Altos, CA
What Are Varicose Veins?
Varicose veins are enlarged, rope-like blue vessels under your skin. Though they are not typically serious, varicose veins can cause people to feel uncomfortable. California Vein & Vascular Centers provides Los Altos, CA, and surrounding area patients with varicose veins diagnosis and treatment services. Most commonly found on the legs, a clotted varicose vein can lead to phlebitis, a skin condition that becomes hot and painful. California Vein & Vascular Centers is #1 in California for performing the most vein procedures in the state and the top 5 in the nation. We can help you look and feel your very best with our varicose veins treatments.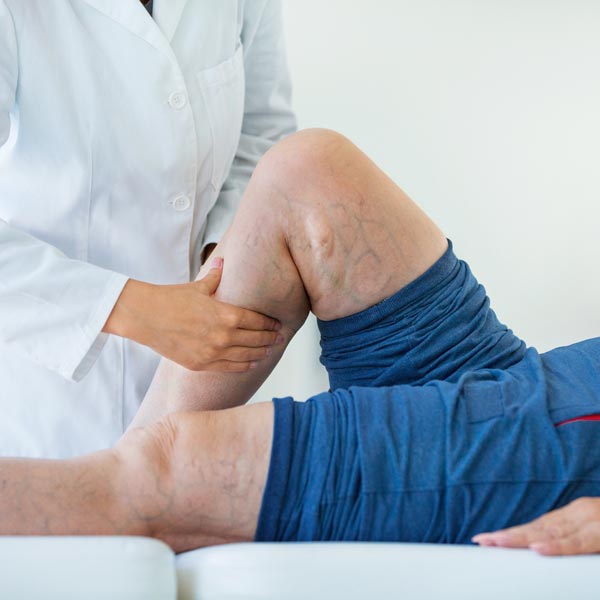 Symptoms of Varicose Veins
Varicose veins don't typically cause any pain unless they become infected or clogged. The most common symptoms of varicose veins include:
Dark purple or blue veins
Twisted or bulging veins
If your varicose veins are clogged, symptoms may include:
Aching legs
Itching around the veins
Changes in skin color
Muscle cramping or swelling in the lower legs
What Causes Varicose Veins?
Varicose veins are often caused by increased pressure in veins. Varicose veins form when veins that regulate blood flow do not function properly and cause blood to pool. Risk factors of varicose veins include:
Being female
Obesity
Inactivity
Leg injury
Older age
Pregnancy
Diagnosing Varicose Veins
Our team performs a physical exam to help diagnose varicose veins. We can often visually diagnose varicose veins. We also can use a Duplex ultrasound to check blood flow and the structure of your surrounding veins.
Varicose Veins Treatment
Varicose veins treatment begins with lifestyle changes, including exercise, wearing compression socks, and avoiding high heels. You may not need any medical treatment unless your varicose veins worsen. We offer multiple types of treatments for varicose veins, including:
How to Prevent Varicose Veins
Varicose veins are challenging for some people to prevent. The best ways to prevent varicose veins from forming include:
Always prop your feet up when sitting.
Never cross your legs when sitting.
Don't wear tight clothing.
Keep a healthy weight.
Exercise regularly.
Why Choose California Vein & Vascular Centers?
California Vein & Vascular Centers is California's premier vascular center. We are known for our superior arteries, veins, and vascular treatments. We serve Los Gatos, Los Altos, Morgan Hill, and Salinas with the highest quality services and customized treatments. Dr. Hardeep S. Ahluwalia and our medical team provide a friendly bedside manner backed with expertise. We are by your side through every step, from your consultation to your treatment.
Contact Us Today
If you're suffering from twisted varicose veins, we can help you. We'll determine the best treatment for your need. We want you to feel your best and live a healthy lifestyle. We treat your vascular and vein issues using our state-of-the-art equipment. Contact us today to schedule an appointment at one of our four convenient locations.
Contact Us Today to Schedule a Consultation